Your roof is an essential part of your home. It protects you from the elements and helps to insulate your home. However, even the best roofs can not last forever. Asphalt shingle roofs usually need to be replaced every 20 to 25 years. If your roof is showing its age, or if you're noticing warning signs like curled or cracked shingles, you'll need to start looking into having your roof replaced.
Roof replacement can be expensive, which is why you'll want to lay out a budgeting plan for your project. These tips will help you to keep costs under control.
Research Your Options
Research your options ahead of time so that you can set a reasonable budget for your new roof. Look at the size of your home and the way that it's structured. Take the pitch of your roof into account. Inspect your roof so that you can get a better idea of its current condition. 
The more information you have, the easier it will be for you to determine how much you should spend on your new roof. Try to set a rough estimate for your roofing project. Keep that estimate in mind when you're calculating a budget. If you set a reasonable budget, it's less likely that you'll wind up going over that.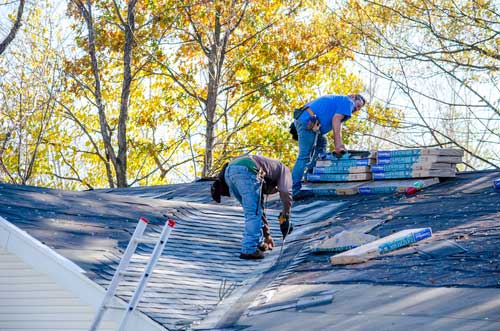 Budget For Unplanned Expenses
Ideally, your new roof will be installed without any problems. If something does go wrong, however, you'll want to make sure you're prepared to cover those extra costs. While uncommon, it's possible that contractors may discover damage you did not notice once the project is underway. Bad weather could delay the project. Because of this, approximately 10-20% of your budget should account for emergencies. 
If you prepare for the worst, you'll be able to stay within budget even if you run into problems. If no issues crop up while your roof is being installed, you'll have extra money that you can put towards other home repairs. No matter what happens, you'll be in a good position.
Make Decisions You Can Live With
Before you move forward with your roof replacement project, you'll want to think carefully about what you want. It's easy to make changes before the project starts, but once your roofing contractor begins ordering new materials or installing your new roof, changing any elements can get much more expensive. 
One of the easiest ways to drive up the cost of a roofing project is to make changes after the project has begun. If you make last-minute changes, you might have to pay to order additional components, and your project could be delayed. Make sure all of your decisions on materials and styling are final before beginning it can save you a great deal of time and money.
Choose The Right Material
The material you choose for your roof will have a significant impact on your total cost. Asphalt shingles are one of the most affordable options available, and they're a good choice for most homes. There are many different types of shingles available, from 3-tab to multilayered. Asphalt shingles also come in a wide array of styles and colors. 
Specialty roofing materials, like slate or metal, can be more expensive but they also offer benefits. For example, if it's properly cared for, a metal roof can last for as long as 50 years. Metal roofs are also fire resistant and have interlocking panels that improve your roof's wind resistance.
Look at different roofing materials so that you can find the option that best suits your needs. When you're evaluating your options, it's a good idea to look at your initial costs and your costs over time. If you learn more about various roofing materials, you'll be able to find a budget-friendly option that's a great fit for your roof. If you have questions about roofing materials, we'd be happy to tell you more.
Work With A Trustworthy Roofing Contractor
More than anything else, you'll want to make sure you can count on the roofing contractor that you're working with. It's essential that you hire an experienced and dependable contractor that you can trust with your roof replacement project. If you work with the right contractor, you'll be able to avoid costly setbacks. 
At Anderson Metal Roofing and Shingles we take great pride in our work and provide our clients with the best roof they can get. We have extensive experience with both residential and commercial projects and provide free inspections and estimates. We work hard to ensure that every one of our clients is satisfied with the work that we do for them. You can count on us for all of your roofing needs.
If you're ready to replace your roof, call Anderson Metal Roofing and Shingles today at (864) 712-4088. If you work with us, we'll make sure that your roof replacement project stays under budget. Talk to us today if you want to learn more about your options. We'd be happy to answer your questions or provide you with an estimate.