Even under the most ordinary of circumstances roof repair is complicated. However, repairing a historical roof can be incredibly more complex. Historical roofs tend to be special. Antiquated methods of installation and old materials make historical roofs unique.
A historical roof is not just old but is also an integral part of the character of a building. To repair or replace a historical roof while you maintain the beauty of a building requires an expert that has vast knowledge in old roofing materials and techniques.
If you own a structure with a historical roof, whether you are a homeowner or the owner of a building, you will need to know how repairs are made once the time comes. For further help understanding the process of restoring the roof of a historical building contact a roofing contractor in Oconee County.
How to Get Started
It is only a few roofers in any particular area that know and understand proper methods of preserving historical roofs. Before work can commence on your roof, you should first find a contractor or craftsman with adequate knowledge of historical building materials and buildings.
Start by finding out about their experience. Historical roofing materials are of several different types and not all contractors are knowledgeable of all of them. Tile, slate, metal, and wood all weather differently and have different types of supports and have to be replaced using different methods.
Ask each contractor questions and request to see photos of projects they have previously worked on. You might lack roofing knowledge, but you should still get a list of references to help you determine which contractors have the expertise needed to complete your job successfully.
The Restoration Process
The process of restoration for a historical roof is painstaking. Assessment is the first step. What's wrong with the roof? Where is the water intrusion gaining entry? Is the historical roof experiencing natural wear and tear, or is there another underlying issue or issues that have to be first addressed before roofing materials are replaced?
Assessments often require contractors to investigate the attic, remove old tiles, and view what's happening under the roof's surface. An expert is required even for just this work to be sure that the roof doesn't sustain additional damage during the investigation. Historical roofing materials are often delicate and can thus not be walked on. The right type of scaffolding and other tools should be used to ensure a non-invasive assessment.
Research
After the assessment of the roof is done, research has to be undertaken before repairs can commence. Often, historians, architects, and contractors work together to investigate the history of the building and its roof. Original building specifications, plans, photos, newspaper articles, and personal files from previous owners can offer insight into the original construction.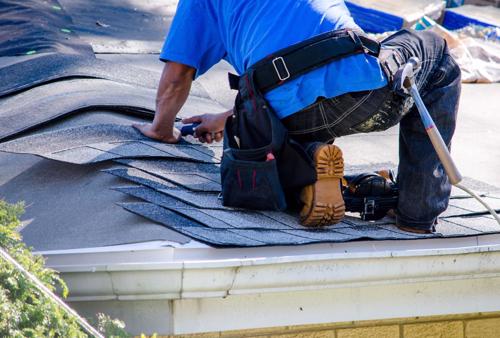 Roofers generally stick to the old building plans whenever possible. The roof underpinnings are sometimes so antiquated that no modern equivalent exists. If that's the case, modern roofers have to use contemporary building materials and tools to install the new roof. The visible parts of the roof, however, must stay as close as possible to the original.
Repairs
The repair process can be rather challenging. If the original roofing materials aren't available any longer, the right substitutes have to be located. It is important for such substitutes to look the same as the original materials and to be compatible with the rest of the materials found on the roof. Combining incompatible materials may result in damage or corrosion.
Repairs should ideally be made during times of mild weather. However, some historical roofs cover buildings that are either functioning businesses or tourist attractions. If that's the case, the roofer might have to finish the job during the slow season to ensure just minimal impact to business operations. Contractors have to work closely with the owners of buildings to ensure a smooth, timely completion.
Documentation
Roofers have to document their work throughout the process for future generations. The roof will only be complete after the process is thoroughly recorded and preserved. It ensures that the owners of the building have a road map when it comes to undertaking repairs in the future.
If you are a homeowner or a building owner with a historic roof, a day will come when the roof has to be either repaired or replaced. When that time comes, you should choose an experienced and reputable roofing contractor to work with.
A proper repair is a great way to preserve your historic building or home for years to come. At our Anderson Metal Roofing & Shingles, we have the necessary experience to repair historic rooftops in South Carolina. You can see a portfolio of our work online or get in touch with our roofing contractors for additional information regarding our previous projects.