Is your roof energy efficient? As reputable residential roofing contractors in Anderson, SC will tell you, roof shingle is the roofing choice to beat when it comes to affordability. Shingles are quality roofing materials, stylish, and come in an exciting variety of colors. Whether asphalt, wood, or metallic, shingles are always represented.
The qualities of shingle roofs don't end there. They are also fire-resistant and easy to repair when needed. Also, one extra feature makes roof shingles more exceptional — energy efficiency.
Using an energy-efficient shingle makes the house cooler, and you can reduce your energy use and bill. This article covers what makes residential shingles energy-efficient. Contact Anderson Metal Roofing for excellent shingle roof installation and repair services.
Understanding Roofing Shingles
If you are at the crossroads of deciding what roofing style to use for your building, let's talk more about roof shingles. Shingles are flat, rectangular roofing materials that overlap one another. Instead of the metallic roofing sheets, manufacturers make shingles from multiple strips.
Each one lies upon the other at one meeting point. For this to happen, laying shingles must occur from the bottom of the roof till it gets to the very peak. Two common types of roofing shingle materials are asphalt and metallic.
Roofing and Energy Efficiency
If only you could make adjustments to your roofing, you won't have to spend as much as you do on energy. But unfortunately, ways of reducing energy consumption have been on the front burner over the years. In addition, the internal temperature of houses can cause significant discomfort during hot weather.
Also, roofing materials don't do their jobs in reflecting sunlight away from the house. As a result, occupants resorted to heavy use of air conditioners during the summer months. This consequently causes energy consumption to spike, leading to more energy bills.
Generally, roofs emit or absorb the heat energy from the sun. However, the rooftop may take in more heat from the sun than it reflects, depending on the material. When this happens, this light energy converts to heat which increases the temperature of the interior.
Roofing manufacturers identified this challenge. Manufacturers were in the vanguard of the energy efficiency movement and finally discovered a solution — energy-efficient roofing. This new kind of roof does more reflection rather than absorption of sunlight.
Now, roofs can do a better job of keeping the inside of residential buildings cool. In turn, household cooling systems can take a break, and homeowners save more on energy bills.
SRI Rating
The SRI — Solar Reflectance Index — rating measures how much reflection and emittance every roofing shingle is capable of. This scale ranges from zero to 100. Lower SRI ratings mean that the roofing shingles will not do an excellent job keeping your house cool.
Another index for measuring how a roofing shingle will keep your home cool is the Cool Roofing Rating Council (CRRC) rating. Higher CRRC ratings mean better roof cooling.
For solar reflection, roofing materials come with an Energy Star certification. This certification helps grade roofs based on how energy-efficient they are. To qualify for Energy Star certification, asphalt roofing shingles must have a starting solar reflectance of 0.25 and a solar reflectance measurement of 0.15 and above over three years.
To better understand SRI rating, speak with Residential roofing contractors in Anderson, SC.
You can choose an energy-efficient roof for your building construction. Also, you can switch from traditional roofing materials to energy-efficient ones. If you want to enjoy the benefits of roofing shingles alongside those of energy-efficient roofing, you are in luck.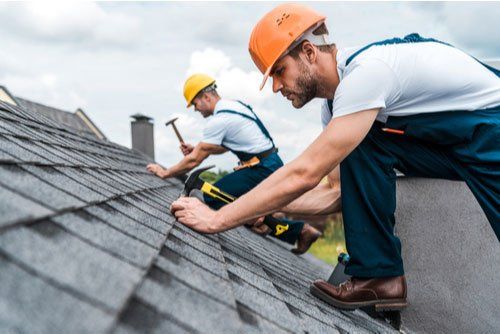 What Makes Residential Roofing Shingles Energy-Efficient?
Some popular residential energy-efficient shingle roof options are asphalt shingles, polymer shingles, and metal shingles. Below, we discuss what makes them energy-efficient.
Asphalt Shingles
Roofing shingle materials like asphalt do a relatively worse job of keeping heat away from the metallic roofing shingles. For this reason, energy-efficient asphalt shingles require more expertise in their production process.
Asphalt roofing shingles are made from modified asphalt or a filled asphalt coating on a fiberglass web. The asphalt roofing shingles with lighter color pigments will do a slightly better job than the darker ones. So, dark colors like black and brown are not Energy Star rated.
Also, asphalt shingles are available in different color ranges, making them the best choice if you have a budget and want an energy-efficient rood. However, note that they require routine maintenance and inspections and ensure that residential Anderson roofing contractors handle both.
Furthermore, asphalt shingles do not have reflective properties in metal, ceramic, and slate roofing materials. As a result, you must use a roofer who can properly install it and ensure adequate ventilation. We recommend installing an ice and water shield instead of traditional tar paper before applying the shingles.
Polymer Shingles
Polymer shingles are chemically manufactured from recycled plastics and rubber. Manufacturers paint these roofing shingles with light pigments, increasing their reflective ability.
Metal Shingles
Metal shingles are either painted or unpainted. Manufacturers coat these metallic shingles with mineral granules to enhance their reflective capabilities. These and the painted metallic roofing shingles will better protect your house from the sun's heating effect.
Residential Roofing Contractors in Anderson, SC Explain Other Benefits of Energy Efficient Roofing Shingles
You get many benefits if you convert your traditional roofing shingles to energy-efficient ones. Apart from a cooler interior and lower energy consumption, you will enjoy an increase in the lifespan of your roofs.
The less heat your roofs have to live with, the more they tend to depreciate because of heat absorption, helping your rooftops last longer.
• Reducing Costs of Air Cooling Systems
With energy-efficient roofing shingles in your new building, your need for cooling systems reduces. Consequently, your budget should enjoy a significant adjustment that will free up funds for other uses.
• Access to Government Energy-Efficiency Incentives
The federal roofing tax credit is a government initiative that aims to encourage energy-efficient roofing solutions. You are eligible for government rebates by purchasing and installing Energy Star roofing shingles. In addition, government agencies and ministries like the IRS (Internal Revenue Service) and the Department of Agriculture provide tax reductions and grants to energy-efficient homes.
Contact Residential Roofing Contractors in Anderson, SC, Today!
As excellent as the advantages of energy-efficient shingles, a poorly installed roof can erase every benefit you should derive. Only hire trusted roofing and shingles experts.
Anderson Metal Roofing is a reputable name associated with quality shingle roofing installation in South Carolina. Let us be your Anderson, SC roofing contractors for a more comfortable and energy-efficient home. Contact us today for a free quote.