Building or renovating a home is a great challenge, especially dealing with residential roofing. The exterior of your home will undoubtedly be exposed to winds, harsh winter, and the occasional storm that will rattle the rafters! A strong roof represents your home's defense from these elements. To get the best roofing materials, reach out to residential roofers in Anderson.
Choosing the Right Roofing Materials
Choosing the appropriate roofing materials will go a long way in safeguarding your home for years to come. This applies whether you're building a new home from the ground up or upgrading an existing one.
Consider these factors when choosing the suitable roofing material for your home:
• Durability
Your roof should be able to survive harsh weather. Ensure the roofing material you choose can withstand nature's wrath for an extended period. For example, asphalt shingles are still the most popular choice for residential roofing. However, it would be best to examine other options, like metal roofing, with a longer lifespan and comparable durability and resilience.
• Attractiveness
Your roofing material should look desirable. Keep in mind that all roofing materials serve the same purpose, with the only differences in styles and textures.
• Long-Term Expenses
Ensure you consider both the upfront and life-cycle costs of your roof. Metal, for example, may be more expensive to install than asphalt shingles, but it lasts twice as long and requires less upkeep. This makes a metal roof more expensive than asphalt shingles.
• Appropriate for Your Budget
Always choose a roofing material that meets your budget when selecting which type to use. An asphalt shingle roof may be the best option if you seek the most cost-effective solution or have a limited budget. If cost isn't a key consideration, you have more options, such as metal or other premium roof systems.
Common Residential Roofing Materials in Anderson
Some of the standard residential roofing materials in Anderson are:
• Asphalt Shingles
Asphalt is the most popular roofing material in the United States. Several single-family homeowners use asphalt roof covering. However, homeowners are now switching to more durable and energy-efficient metal roofing. Despite this, asphalt continues to dominate the market because it is inexpensive, comes in various colors, and has high weather resilience.
Fiberglass shingles consist of a fiberglass mesh mat covered in asphalt and topped with colored grains to reflect as much light as possible. Fiberglass shingles are lightweight and incredibly tear-resistant.
Most asphalt shingles made from organic materials are from recycled paper drenched in asphalt and then covered with granules. As a result, the shingles are heavier and more durable than fiberglass shingles. They provide superior stability against heavy winds due to their increased mass.
Asphalt shingles are highly affordable. They are durable and can last up to 30 years or more in moderate climate conditions. Also, most asphalt is easy and cost-effective to repair.
Sometimes the duration of use could be less because of the home's location. Frequent fluctuations in temperature may cause them to crack. Also, it may be more expensive as compared to other roofing options.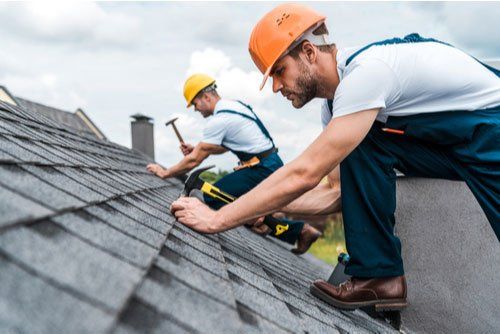 • Metal Roof
Metal roofing is fast becoming the roof of choice for homeowners. While a metal roof costs more upfront than a shingle roof, numerous advantages have made it a more popular choice among homeowners.
Metal roofing has 2-3 times the durability of asphalt shingle roofs. It has low maintenance. It can also come in different colors, styles, and a wide range of options. It is environmentally friendly and resistant to weather. It is energy-star rated, and there could be possible deductions in insurance premiums.
However, metal roof installation also requires special skills. Copper and zinc metals are excellent for the greatest durability and endurance. They are more expensive and attractive than the other metals and can last for a long period.
• Composite Slate
A slate roof is one of the fashionable roofing types in Anderson. It mainly consists of natural slate tiles and other slate roofing materials. Unlike other roof-type options, slate tiles are heavy and require special structural reinforcement.
A slate roof is one of the most attractive and long-lasting roofing materials available. It has a solid appearance, smooth texture, and non-fading color. Replacing your old roof with a new slate roof is time-consuming and costly.
Composite slates are very heavy, so your home must be built, framed, or altered to support its weight. If you can afford the high price, it may be the final roof you will install on your home.
• Wood Shingles or Shake
Wooden roofs appear beautiful, but they are also costly and have restrictions. They are among the most aesthetically pleasing of all roofing materials, making them popular in luxury residences.
They have short lifespans and are not a good choice in locations with rain or wildfires. Wood roofs also crack, curl and lose their color as they age. There is a distinction between wood shakes and shingles, although they are composed of natural wood, mainly cedar or redwood.
Shingles are typically thin wedge-shaped wood slabs made with precision. Splitting wood produces shakes, which have thicker wedges with a rougher texture.
• Concrete Tile
A concrete tile is made from sand-mix concrete that can be tinted in any color scheme. There is a range of profiles to choose from, some of which look like rolled clay tiles and others that are low-profile and seem like wood shakes.
Sometimes, a decorative coating can be applied to the concrete tile. It's a relatively heavy roofing material. It is also expensive but lasts for an extended period.
• Synthetic Slate
Synthetic slate tiles are a remarkably credible substitute for natural slate, but they're made of artificial polymers and recycled plastic and rubber. It might not be easy to distinguish between manufactured slates and natural slates.
Synthetic slate is also relatively light, making it a viable option for homes unable to sustain the massive weight of natural slate. This roofing material is an excellent choice because it is environmentally friendly. Also, synthetic slate roofs have modifiers for withstanding storm damage.
Do You Need a Roofing Company in Anderson?
Anderson Metal Roofing and Shingles has the expertise to install a wide range of roofing and wall systems and residential and commercial projects of any scale. With 20 years of experience, we've been the go-to roofers in Anderson and the surrounding communities.
Roofing products have been placed on several homes by our workers. Our roof repair team has also worked on a variety of roofing systems. We are licensed, insured, and capable of handling all your roofing needs and also offer insurance claims assistance.
Our ultimate goal is customer satisfaction. So rather than continuing to search for roofing contractors near me, contact us today to get a free quote.