Whatever you've thought of it in the past, metal roofing has come a long way. This material is now the most reliable (and cheapest) method of creating a roof that lasts. And it can work wonders in a variety of climates and locales. Whether you live in the snowy north or the humid south, there are metal roof solutions that will work for you.
Each year brings new trends in the world of metal roofs, and 2020 is no different. From aesthetic changes to make your home look as nice as possible to functional upgrades that make metal roofs stronger and more resistant to bad weather, you have more options than ever. Whatever you go with, though, metal roofing is a choice that you can be confident in for a long time to come, especially when compared to other materials that require more frequent replacement while costing more to begin with.
If you're thinking about getting a nice, new metal roof for your home, it's worth taking some time to consider the latest trends in this area. After all, you want a roof that both protects your home and looks great. Here are 2020's five hottest trends for metal roofing that you should think about before contacting a roofing contractor in Anderson.
1. The Resilient Type
With more extreme weather than ever being reported, everyone is looking to make sure their homes can stand up to nature. With resilient metal roofing, your house will be protected from everything — whether we're talking hurricanes, thermometer-bursting heat, or winter storms and pounding hail. Some of the latest metal roofs have been designed to look like stone, tile, or other hardy-feeling materials. This way your home LOOKS as protected as it actually is.
2. The Light & Bright
Getting more sunlight in your home isn't just a way to brighten the area; it can actually improve your mood! Luckily, you don't need to depend on just whatever light gets through your windows. Residential metal roofs are perfect for adding skylights. These can also create more noise when it's raining, but with proper insulation, the noise will be lessened and you'll have a gorgeous addition to your space.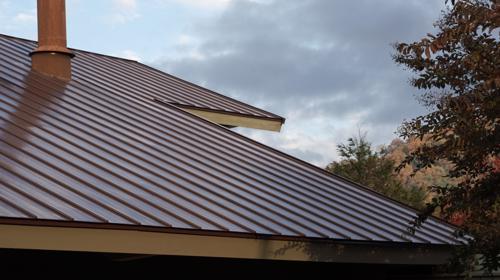 3. The Multi-Taskers
When is a roof not a roof? When it's also a source of money-saving, environmentally friendly renewable energy! Because of their strength and stability, metal roofs are ideal for the installation of solar panels and other new technologies that help a home create its own energy. This approach is becoming increasingly popular in 2020, especially as a path toward creating "net-zero" homes — that is, houses whereas much energy is created as is used. Best of all, on top of everything else, metal roofs can be easily recycled after they're replaced, rather than just being sent to a dump.
4. The Bold & The Beautiful
Some people just think of metal roofing as a generic, bland style that only ever looks one way. That couldn't be further from the truth in 2020. With metal roofs, you're given unlimited options for stylistic choices and determining how you want your home to look. In fact, in recent years, more and more people are going with colorful, bold choices with their metal roofs. Some of the most popular colors going into this year are green, red, and blue. Don't be afraid to pick a look at helps your home stand out.
5. The Creative Class
Color isn't the only way that you can show off your personality with your metal roof. You're also able to pick a variety of interesting designs and styles that give life to your space. These choices might just provide accents to specific areas of interest on your metal roof, or they might help set an overhang apart from the rest of the roof. Whatever the case, the possibilities are really endless. With your new metal roof, you can truly make sure that your home gets across who you are.
Contact a Roofing Contractor
If it's time for you to revamp your roof in upstate SC contact the experts at Anderson Metal Roofing & Shingles. We specialize in metal roofing and can give your house the best of 2020's metal roof trends. Call us now at (864) 712-4088 for a free quote.